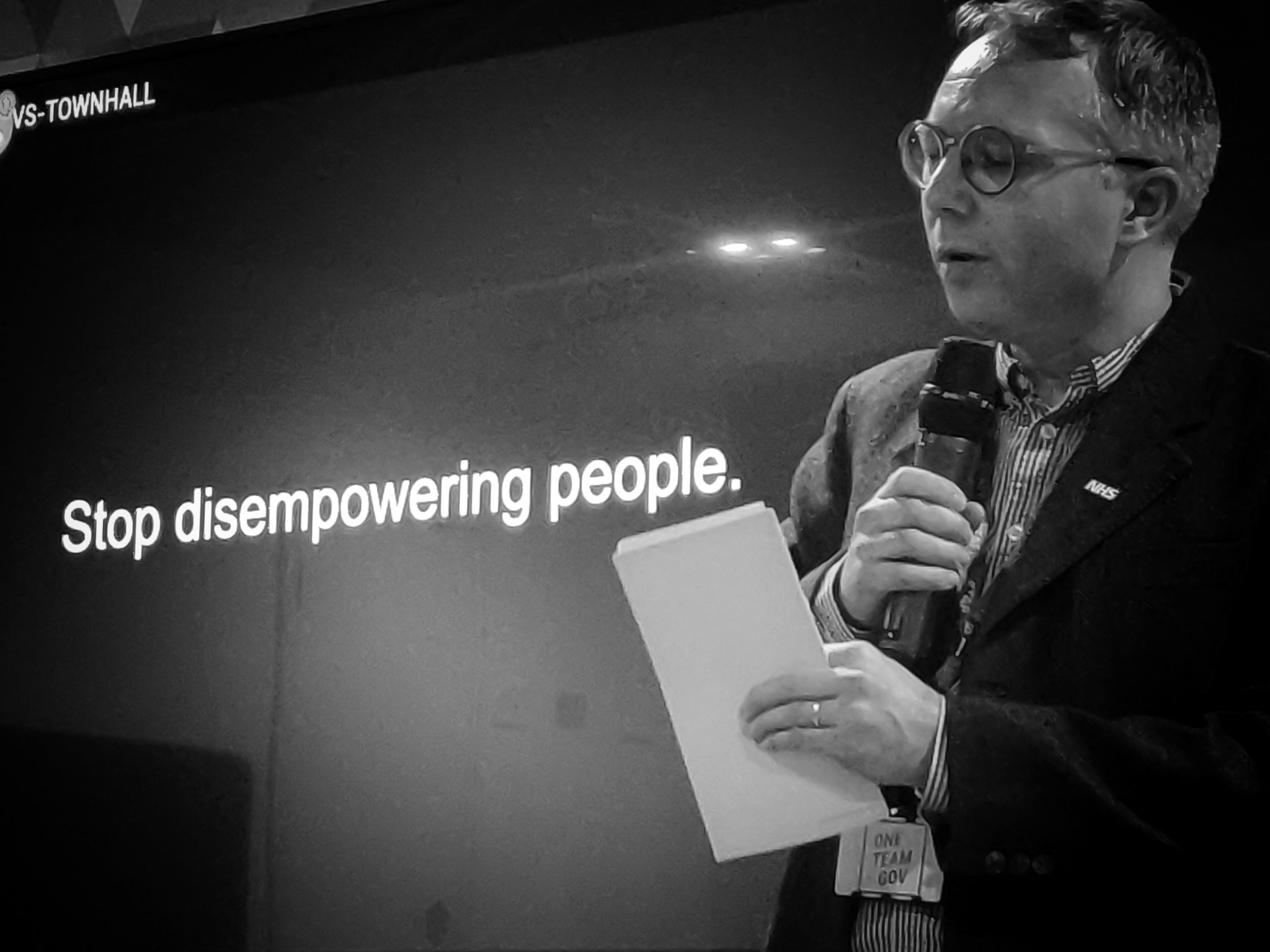 I was honoured to be invited to talk at Health Product People at the Department of Health and Social Care this week, especially so because I was on the same bill as Hadley, Ian and Kassandra, all of whom were brilliant. I loosely titled my talk "Stop disempowering people." (Thanks to Ian for photo of me in full flow.) Here's roughly what I said…
This is former UK Government Chief Technology Officer Liam Maxwell's phone. On the back he famously had the words, "What is the user need?" When a meeting seemed to be going off track, down some rabbit hole of business sophistry, Liam would show people the back of his phone. User needs are always a good place to start.
But then where? And which users, which needs?
I talked about how, in health and care, we need to consider people's clinical, practical and emotional needs. (Thanks to Janet Hughes for framing that so pithily for us.)
I also laid down a challenge to the assembled product people: We talk a lot about empowering people. But who are we to empower anyone? Everyone starts with power; it's our job to stop them being disempowered.
Illness, disability, social circumstances and fear can all be disempowering. So, unfortunately, can be the complexity of the health and care system, and the way we treat people within it.
Recently I heard the story of someone who had lived with anxiety, and had developed their own ways of coping with it. Things went downhill for them the day they were referred to a service with a long waiting list. While in that limbo, they were disempowered – they knew they needed professional help, but had no way of accessing it. The service had taken someone who was managing, and disempowered them, made things worse before making them better.
Digital service, done right, can help people to recover their power over their own health and care.
I gave the example of a new section on the NHS website about Type 1 Diabetes. Our team identified that the point where people most needed help was in the weeks and months after getting a new diagnosis. Instead of structuring information around a clinical taxonomy, or around the way our services are organised, they created a section just for people who were newly diagnosed. By bringing together some key information in a simple package, they could help people take charge of their own health and care at a time when there's a chance of being overwhelmed.
I might have subtitled the talk "People showing their phones", because in addition to Liam's phone, I also showed this picture…
It's from research I did before I joined NHS Digital, as part of a discovery for Leeds City Council and m-Habitat [PDF link – sorry]. We were investigating how health and care professionals could increase their digital capability. But often, the barriers turned out to be more basic than capability. Research participants would show us the battered dumbphones they'd been given to do their jobs. Fix this first, they'd say, then we'll be interested in the digital tools you have to offer.
We met social workers who were trusted to go into difficult situations, and make decisions with massive implications for families' futures. Yet they hadn't been trusted to connect to the wifi at a local health centre. (The situation in Leeds has, I believe, got much better since then!)
It became clear to our whole project team that if we didn't empower our workforce, they could never empower patients or service users.
Our new design principles are intended to empower. They don't tell people how to do their jobs – but rather provide a set of principles within which anyone can apply their own expertise, and their understanding of the situation at hand.
If we're serious about putting people in control, we need first to free our minds of deficit thinking. I presented four manoeuvres that could help to do that.
1. User needs assets
The first, and perhaps most obvious, is to mitigate the deficit thinking implicit in the term "user needs" by remembering also to consider users' assets – what they have and can do, not what they lack or need fixing.
Assets are a design material, something we can work with to help people achieve the outcomes they seek.
For example, a user might need to exercise more, but their love of music is the asset that suggests dance classes as a good way to get started.
2. Capability stories
Who is the hero of the user stories you write? Make sure it's the user by focusing on the last part of the construct, the bit that starts "so I can…"
Let's call it the capability story, something that doesn't just solve short-term problem, but leaves the user stronger and more able than before.
For example:
"As a person who has just been diagnosed with type 1 diabetes, I need to learn how to count carbs, so I can control my blood glucose levels."
"As a person with memory problems, I need information that's easy to understand, so I can decide for myself."
Or maybe even:
"As a visually impaired web user, I have a screen magnifier on my phone so I can read web pages, provided they're well designed and coded."
3. Ladder of participation
Sherry Arnstein's ladder of citizen participation posits that there are different levels of involvement, from manipulation, through placation, and rising up through partnership to true citizen control.
Nobody wants to feel manipulated, and when they do, it's unlikely to achieve the manipulator's intent.
In digital service, the most passive level is being treated as a data subject – a bundle of behaviour to be analysed and influenced.
We try to avoid casting the people who help us with user research as lab rats – not testing the user, but testing with the user, taking part in research.
But let's not stop there. I was on a team at Co-op Funeralcare with four funeral directors who were taken off funeral duties for 6 months to help the digital team design new tools and workflows.
In health and care, we should consider patient leaders as our most esteemed stakeholders, invite them to our sprint reviews, and give them seats on our programme boards.
4. What's strong, not what's wrong
Finally, some questions from Asset-based Community Development (ABCD), which prompt us to consider the impacts of any intervention:
What will be enhanced?
What will be restored?
What will be replaced?
What might this mutate into?
Let's stop disempowering people.
Thank you.